Regular central heating maintenance may not be at the top of your list when it comes to home checkups, but it definitely should be! In charge of giving you a nice hot shower on chilly mornings and keeping you cosy in the winter evenings, your boiler is one of the most important appliances in your home. Looking after your central heating is simple, especially when left in the hands of accredited plumbing and heating engineers. So, to find out the plethora of benefits that come with central heating boiler maintenance, keep on reading!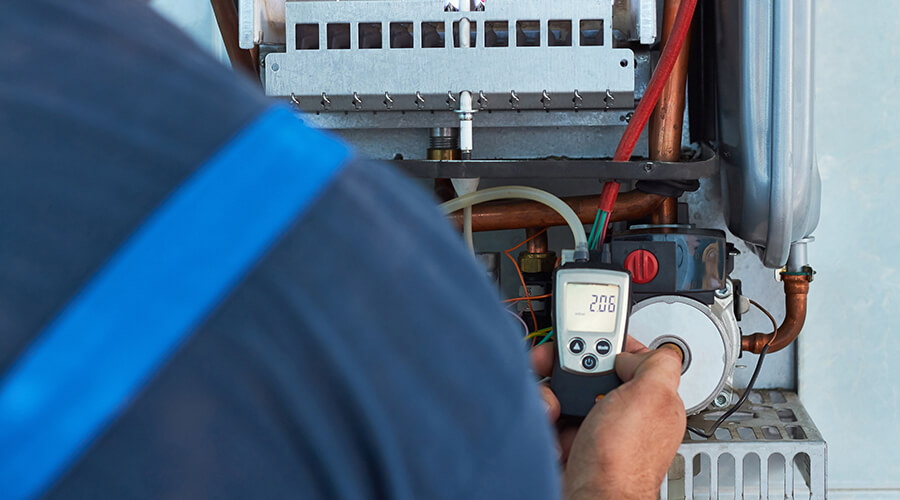 Your guide to central heating boiler maintenance
We heavily rely on our boilers all year round to keep our homes warm and give us hot water, so regular maintenance is vital to keep it working safely and efficiently. By booking an annual boiler service every 12 months, you can significantly reduce the chances of your boiler breaking down and help maintain its great performance.
It is no surprise that during the winter months, we make our boilers work overtime, making it especially inconvenient if a breakdown occurs. To avoid this, we recommend having your boiler serviced during summer. By doing this, you can ensure your boiler is in perfect working order for when you need it the most, and you won't be worried about having an unexpected bill. Moreover, as many people do not have their boiler serviced in preparation for winter, once they find out it is not in working properly, heating engineers become inundated with call outs. This means you will more than likely have to wait much longer to get your central heating and hot water back up and running.
With a boiler service in Milton Keynes, you can feel confident that your boiler is being attended to by a Gas Safe registered engineer with years of experience. You can read about our comprehensive inspections here.
Safety
One of the most notable benefits of boiler maintenance is, of course, safety. Boilers have built-in safety features to guarantee correct and efficient operation, but these can deteriorate over time and can lead to an avoidable breakdown. Moreover, a faulty or incorrectly fitted boiler can be extremely dangerous, so regular maintenance is imperative to help safeguard against fires, gas leaks and carbon monoxide poisoning. As carbon monoxide can be deadly in serious cases, as well as getting your boiler safety checked annually by a suitably competent and qualified Gas Safe registered engineer, you should also fit an audible carbon monoxide alarm. There are also a number of warning signs you should be aware of that could indicate carbon monoxide is in your home:
Boiler flame is yellow or orange in colour instead of crisp blue
Dark staining on/around appliances
Pilot lights frequently blow out
Increased condensation inside windows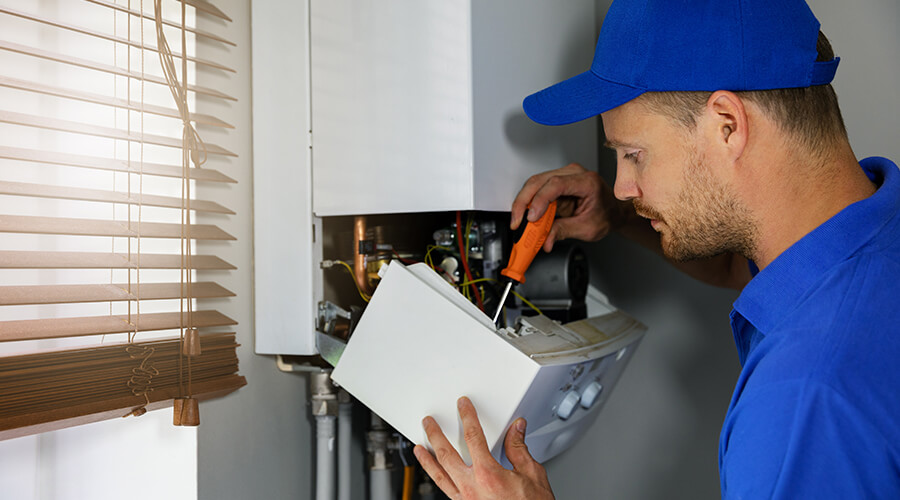 Extend your boiler life
Typically, the lifespan of a boiler is around 20 years. However, if not properly maintained, this amount of time significantly reduces, and you could find yourself paying out for an entirely new boiler sooner than you think. An annual service will ensure any problems your boiler may have are identified early and do not develop into a severe issue that requires you to buy a new boiler. During the service, your engineer should make a visual inspection of all heat exchange surfaces to look for corrosion, scale, damage, or debris. As well as professional maintenance, you should also endeavour to make a visual check of the boiler once a month to identify any potential problems. The fuel pump should be inspected once every three months and replaced at the first sign of malfunctioning.
Energy efficiency
Heating and hot water accounts for around 62% of what you spend on your bills every year, meaning your boiler has a huge impact on your energy bills. A fully functioning boiler provides the ultimate energy efficiency, which can save you money on your heating bills. Boilers, like many other domestic appliances, have energy efficiency ratings of A-G. The energy efficiency ratings are as follows:
A – 90% and above
B – 86-90%
C – 82-86%
D – 78-82%
E – 74-78%
F – 70-74%
G – below 70%
If you know how old your boiler is, you can use this rough guide to determine its energy efficiency:
Over 25 years old: 60% efficient
20 years old: 70% efficient
15 years old 80% efficient
10+ years old 85% efficient
Aside from maintenance, other ways which you can ensure your boiler is as energy efficient as possible is to replace it with a newer mode, fit better controls, switch to a cheaper or lower carbon fuel or technology and use chemical inhibitors to help maintain central heating system efficiency.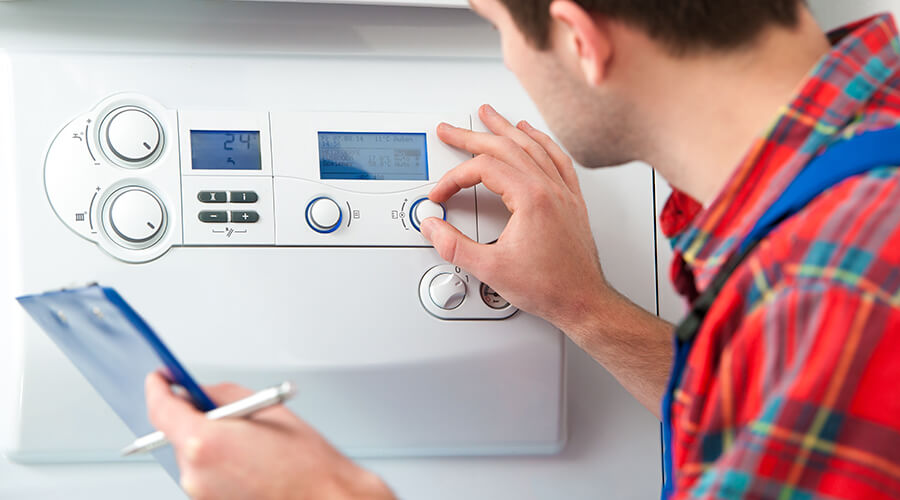 Abiding the law
If you are a landlady/landlord then having your boiler serviced on an annual basis is not just a general household check, but a legal obligation. Failure to comply with these simple maintenance checks could result in prosecution, landing you a large-scale fine or even the possibility of serving prison time. New regulations introduced in April 2018 allow a landlord to arrange for a gas safety check to be carried out any time from 10-12 calendar months after the previous check while still preserving the original check expiry date.
Improve your home value
If you are hoping to increase your home's resale value, maintaining your boiler is one of the most simple yet effective methods to do so. Many people assume that in order to increase their home value, they have to spend thousands on extensions or conversions, but this is not the case. If your boiler is fairly new or well maintained, it means your home is more reliable, better heated and easier to install additional appliances like underfloor heating. Similarly, potential homebuyers will see your home as safer if it has regular records of boiler servicing or features a brand new boiler. As well as your boiler fittings, you can increase your homes resale value by installing double glazed windows and new front doors.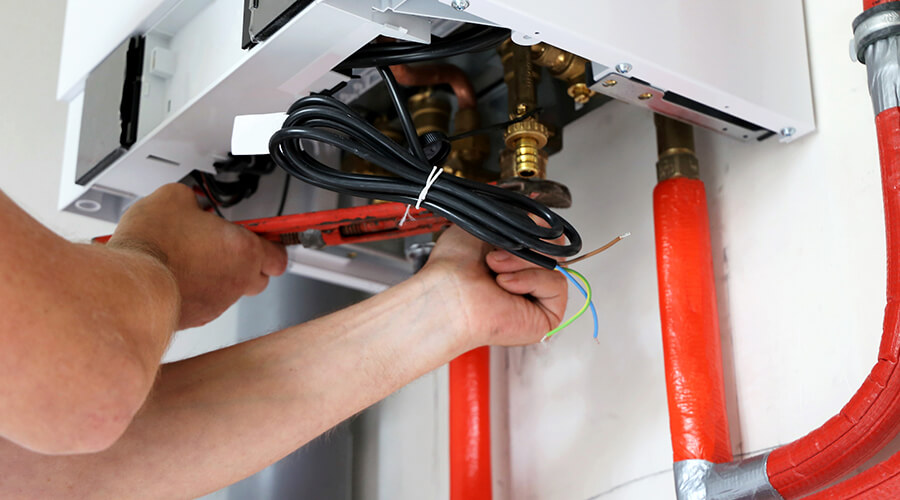 DIY checks
Boilers can be very complicated and problematic appliances, so we will always recommend leaving major maintenance checks to the professionals. However, if you want peace of mind, there are a few simple checks you can conduct yourself throughout the year to ensure your boiler is working correctly.
1. Turn on your central heating
When you turn on your central heating, make sure to listen out for any strange noises coming from your boiler.
If you hear clunking or banging noises, limescale has likely accumulated on the heat exchanger. Although modern boilers are fitted with safety features which minimise the chance of this happening, it is still a possibility. A limescale build-up will significantly reduce the efficiency of your boiler and cause long-term internal damage.
Whistling sounds could indicate that there is trapped air in the system. If this is the case, the solution is simple as the trapped air just needs to be released. On the other hand, whistling noises could be caused by a loss of water pressure of blockage.
A faulty boiler may also create gurgling noises. These noises could indicate air is trapped or there is a blockage. Boiler gurgling is sometimes a sign that the condensate pipe is frozen.
2. Vent the radiators
Once you have turned your heating on, you should go around your home and check that all your radiators are being fully heated up. If you notice any cold areas in your radiators, you will need to bleed them. This is a simple process that can be completed in just 5 steps. Once you have identified the cold spots of your radiators and you have turned the heating off to allow them to cool down completely, you should:
Grabe your supplies (a radiator key a cloth and some old towels)
Find the bless valve and loosen the bleed screw
Wait for the hissing to stop completely
Re-tighten the valve and clean up any drips
Turn the heating on again to check the cold areas have gone
3. Insulate tanks and pipes
If you have an expansion tank, make sure it has a jacket so it is protected from any frost. You should also check that any pipework and cold area around the boiler is insulated with heavy duty foam lagging.
4. Protect your condensate pipe
If you have a condensing boiler, you need to locate where the condensate pipe discharges. If it is internal, then it should be sufficiently protected. However, if it is outside, you need to make sure it is lagged, or has a trace heater fitted to the pipe to stop it from freezing.
5. Turn up the power
Lastly, you should turn your boiler and radiators up to maximum and leave them running for around 10 to 20 minutes. If you notice any noticeable issues, or the boiler cuts off, you should call an engineer.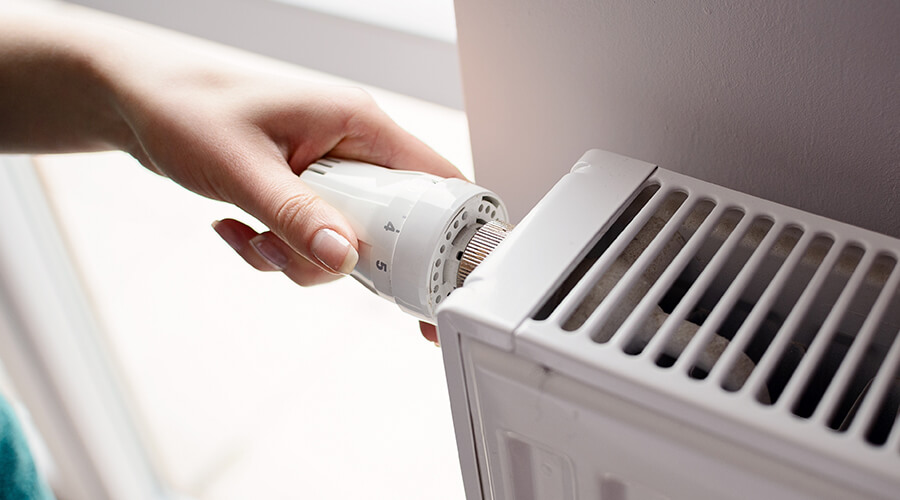 Central heating boiler maintenance made easy
The best way to avoid a boiler breakdown and keep you, your family and your home warm during the winter months is proactive boiler maintenance. By carrying out regular checks yourself, combined with a full inspection conducted by a qualified engineer, you will be able to keep your boiler in pristine condition for as long as possible. Don't forget, if you do notice a problem with your central heating, we provide boiler repairs in Buckingham and the surrounding areas which you can rely on to get your boiler running smoothly again as soon as possible.