Being restricted at home during the COVID-19 outbreak is most likely going to make you notice problems around the house that need fixing. A common issue that leads to rooms being awkward in terms of where you can place the furniture is the location of your radiator. Many problem solving and home DIY fanatics are likely going to think about ways they can move their radiator to create a better layout for their room. While it is possible to move your radiator yourself, it is important to make sure that you get to grips with the ins and outs of the task to ensure safety measures are considered.
Having been reputable plumbers in Milton Keynes and the surrounding areas for some time, we thought it would be handy to give you some tips and a guide on how to move a radiator at home. If you are planning this DIY project, then we highly recommend thoroughly researching the tools and equipment you will need. Alternatively, please feel free to contact the team about plumbing services if you would like to move your radiator but don't have the skill to do so.
A Bishop Plumbing Guide On How To Move A Radiator At Home
Failing to follow guidelines and tips when moving your radiator yourself, can lead to serious consequences, whether it be a major injury or creating expensive damage. Damage ranges from heating system failure, cracked pipework, flooding or damages to the structure of the home such as the walls. Any damage caused by faulty work is not only dangerous for those living inside the property, but can also amount to a large sum in repairs, so if you don't feel confident completing this project, please contact the team.
However, there are some basic steps that you can take to minimise the risk of damage to your home and maximise safety when completing the project. Here are the things that we will cover in this article: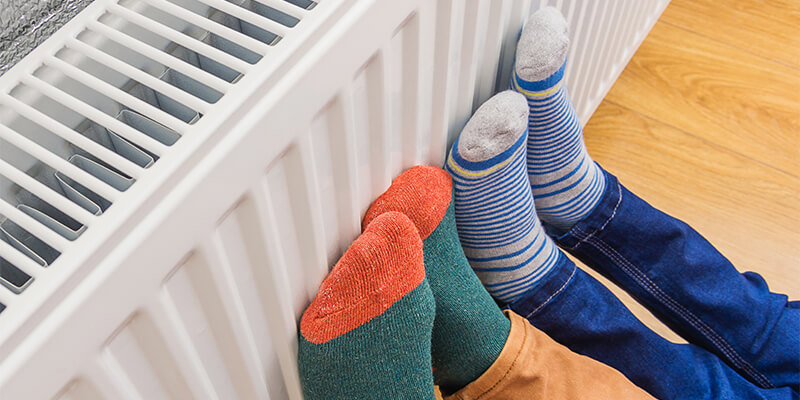 There are several benefits to moving your radiator, some of which can even enhance your living space, giving you more room to decorate it the way you wish. One of the main reasons a homeowner may want to move to location of their radiator is to allow them more space to place their furniture. When moving into an old home, you may find that the radiator has been placed in an inconvenient location, making it difficult to know where to place your sofa, bed or wardrobe. You want to make sure that the heat is still able to circulate around the room, and having a large object placed in front of the radiator can mean that you spend more money on energy bills trying to heat up a room. However, by moving the radiator to a more convenient place, you are able to easily heat up the room, possibly even reducing your energy bill.
Having a radiator next to a window or door can also impact how effective it is; this is because the heat that it produces can often seep out of the room through gaps in the door or windows. In most homes, the radiator is located under the window because it is the coldest part of the room. However, this can mean that the radiator spends most of its time heating up the cold air that comes into the house. This is why it is important to not only think about where you want to relocate your radiator but also whether it may be time to consider having windows replaced with double glazing and minimising indoor drafts with draft excluders.
Another benefit is that it gives you the opportunity to find a new, stylish and modern radiator that fits in with the interior decor of your home. There are a whole host of stunning radiators for you to choose from, and some can even act as artwork within the room. We love the radiator collection from House of Radiators, such as this Bamboo style wall mounted radiator. If you would like some design inspiration, then head on over to B&Q's DIY blog for some ideas on radiator styles and what type of radiator to go for.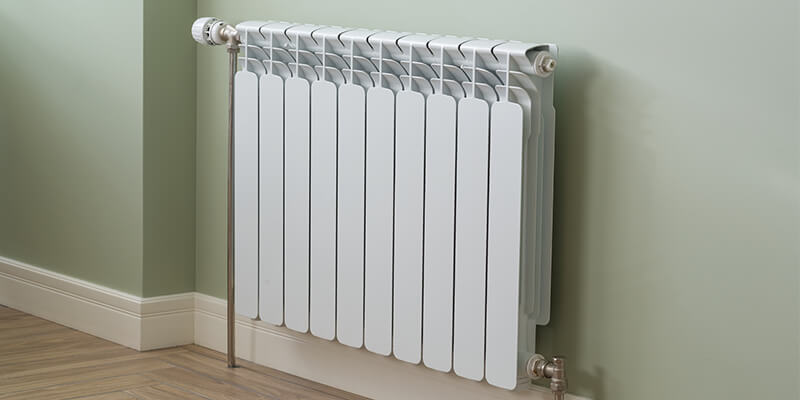 The first step before you start working on your radiator, is to make sure that you have all of the safety measures in place to ensure that you don't cause damage to your home or injury to loved ones. Researching how to remove a radiator is just one way in which you can do this, as it will give you a better idea of what it takes to complete the project.
Before you begin doing anything with your radiators or heating systems, it is important to make sure that you have turned off your boiler and any of the controls to avoid flooding the room or burning yourself. If the system is already warm from having the heating on, then please make sure that you wait a while for the pipework and system to thoroughly cool down before removing valves and radiators.
It is quite self-explanatory that before you begin moving the radiator, you will need to make sure that it can fit in the location you wish to move it to. The first step to this is to measure the radiator where it currently is, taking into consideration the size of the radiator, how far away it will need to be from doors, windows or other objects on the wall. You will also need to measure the space that you need below the radiator, incorporating pipework in these calculations to ensure that you don't make any errors when fixing the radiator to its new location. This will give you a better understanding as to how much space you will require for the radiator.
After taking your measurements, you will need to figure out how much pipework is required to place the radiator in your desired location. You can find more information about how to do this on Hunker. If you are not confident in doing this, then we highly recommend speaking to a professional plumber. Bishop Plumbing has years working within the heating and plumbing industry, providing clients with heating services in Milton Keynes and the surrounding areas, so is confidently able to give you more accurate measurements.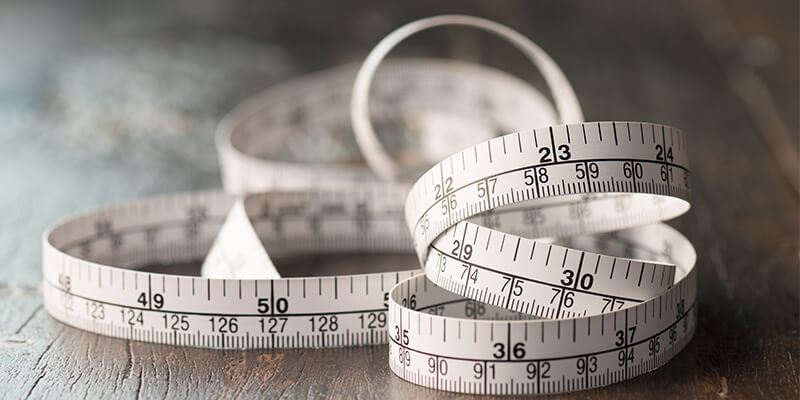 Before you take out your radiator and relocate it across the room, it is wise to take a quick look at the current pipework to see where it leads. This will help you to determine whether you will need a professional plumber to complete your radiator relocation. The reason you may need a plumber is because if the pipework does not travel to the location that you wish to place your radiator, then you will need to have pipework fitted and extended in order to place the radiator in this location. The plumber will have to lift the flooring up as well as floor covers and boards to trace the pipework's route, which as you can imagine, takes a lot of skill and precision to prevent damages.
Once you have measured your radiator and checked the pipework, it's time to drain the heating system before taking the radiator off the wall; this will drain the water from the pipework to stop flooding or other damage being caused. Before you can start draining the system, you will need to make sure that your central heating is turned off and that you isolate the electricity supply; otherwise you are creating an unsafe environment to work in.
If you try to drain the system with the electricity supply still running, you could find that the boiler fires back up or the pump may start, which could lead to it burning out and overheating the boiler. For this reason, while you may be able to remove the radiator yourself, it is required that you have a basic understanding of plumbing and heating systems to avoid injury.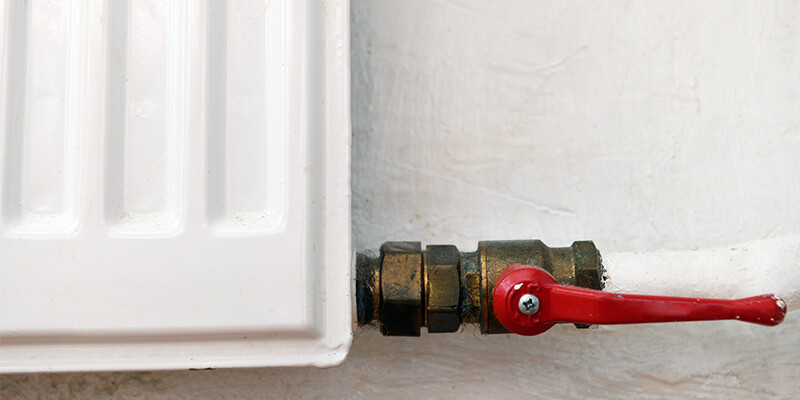 The measurements that you noted down earlier will now come into play when it comes to fitting the new radiator onto the wall – make sure that you don't forget the pipework! If you are fitting the same radiator to a different location, then make sure that you place the fixtures in a suitable location so that they will not get lost or mixed up. We recommend purchasing some ziplock bags and labelling what the fixture is for and where it goes to fit the radiator. If you are installing a new radiator, then make sure you thoroughly read through the manual before fixing it to the wall.
We would advise that before going ahead and fitting the radiator, that you use a pencil to mark the fitting locations to make sure that no errors are made. Use a spirit level to make sure that the radiator will be straight when mounted to the wall; otherwise, you may create more work for yourself having to take the fittings out and patching up the hole. You can find further advice as well as a helpful guide on how to hang a radiator to a wall on Able Skills blog.
Once you have mounted the radiator to the wall, you should make sure that you carefully test the radiator, not only to see if it works, but also to see if the system is still working properly. You can do this by turning the heating system back on and feeling the radiator to see if it warms up. When doing this, make sure that you also feel the other radiators to ensure that the system is working correctly and that you have not cut off the pipework to other radiators, as this can cause major issues within the heating system. If this does happen, then immediately turn off the heating system and call Bishop Plumbing as soon as possible.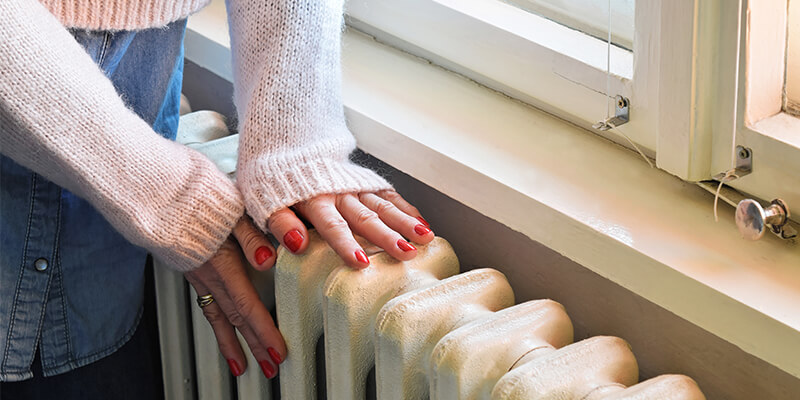 Successfully Relocate Your Radiator
DIY projects can be extremely fun, especially when the weather is a little grey outside. Moving your radiator is a great way to renovate your home at a lost cost, and will definitely pass the time effectively. However, it is extremely important that you make sure that you know what you are doing as there is a lot of room for error when moving a radiator without prior experience. You can watch various YouTube videos for advice and tutorials on how to move your radiator if you find yourself lost or confused. If you would like to move your radiator but don't have the confidence to do it yourself, please feel free to contact the team today!