Save Energy With Nest
All Nest products provided by Bishop Plumbing & Heating can be controlled using your phone, allowing you to heat up your home on your way back from work and turn down temperatures from anywhere in or out of the house. The team can help you to choose products best for your requirements, installing your new Nest thermostat at a time best suited to you. Take a look at the Nest products available: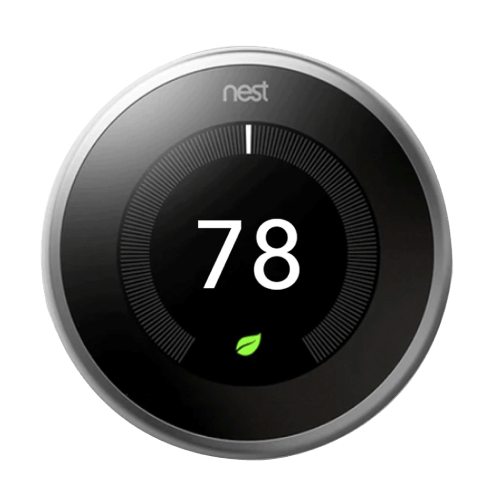 Nest Learning Thermostat
The Nest Learning Thermostat allows you to control your hot water from your phone, meaning no more wasted energy. It also takes just one week to adapt to your energy usage, such as the times you turn the heating on and the temperatures you enjoy, setting itself to ECO Temperatures when it knows you have left home. The settings of the Nest also help you to learn how much you can or have saved by showing you your energy usage throughout the day, and where you could be wasting energy.
Colours:
Stainless Steel, White, Black & Copper
Ring:
Metal & Polished Finish
Stand:
Installed On The Wall
Farsight:
Shows Time, Temperature or Weather
Heat Link:
Connects To Boiler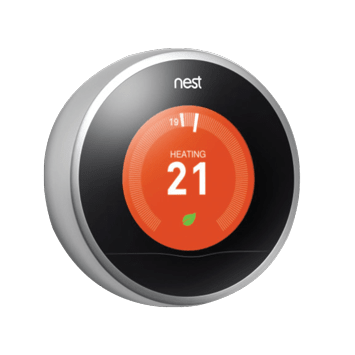 Nest Thermostat E
You can use your smart device or voice-activated home assistant to change and control temperatures around the home. The Nest Thermostat E has a simple to use control setting, allowing you to schedule temperatures to save energy. It also knows when you are not at home, and will turn itself down to help you save energy when the house is empty. The design of the Nest Thermostat E makes it a subtle addition to your home, lighting up only when you are close to the device.
Ring:
Polycarbonate, Ceramic-Feel Finish
Stand:
Anywhere With Its Build-In Stand
Heat Link:
Battery Powered & Build-In Temperature Sensor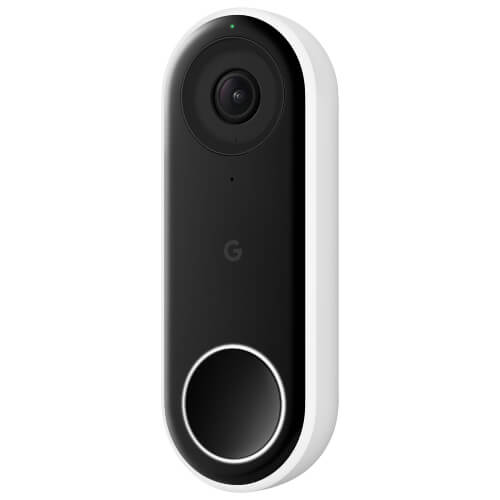 Nest Doorbell
With a 24/7 streaming feature, the Nest Doorbell notifies you when a visitor is at your door, providing you with a full view of anyone or anything that may have arrived on your doorstep. The device is connected to a unique Nest app, which allows you to hear conversions, set pre-recorded responses or speak to visitors. Cameras are equipped with night vision, and should you want to avoid the loud chime when children are asleep, for example, you can programme your doorbell to send smartphone notifications only.
Colours:
Black With White Edge
Video:
1600 x 1200 HD Vision, HDR & Night Vision
Camera:
160° Field & 4:3 Aspect
History:
3 Hour History Snapshots
Security:
128-bit AES & TLS/SSL Encryption
Requirements:
Wired Doorbell, 12V AC-24 V AC, 8VA Transformer, Chime, Wi-Fi Connection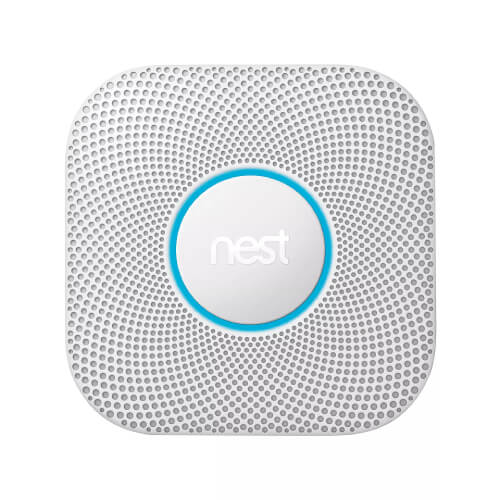 Nest Fire Alarm
Known as the Nest Protect, this smart smoke and carbon monoxide alarm is designed to send a smartphone alert when either is identified, showing you precisely where the danger is located. It provides an early, spoken warning and should the problem escalate, it will then trigger an alarm, which can be silenced via the Nest app. Not only this, but through the app, you can schedule an alarm test, which, once complete, will ping you a full report. It will also send you a notification when the batteries are running low, so you can change them before the alarm begins to chirp.
Ring:
RGB Colour Ring With 6 LEDs
Sensor:
Split-Spectrum Sensor
Requirements:
Wi-Fi Connection, iOS 8 or Andriod 4, Free Nest Account